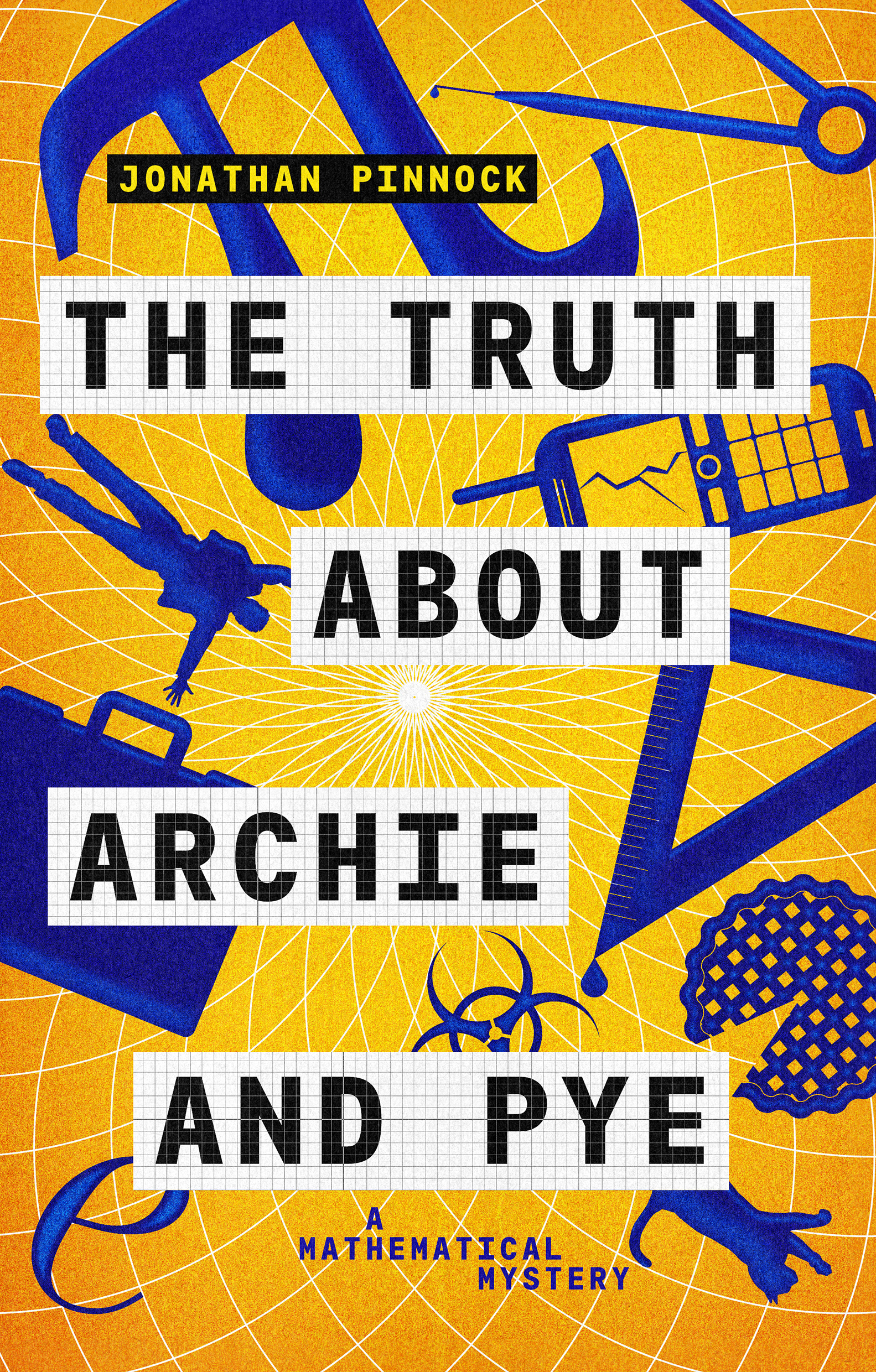 The Truth About Archie and Pye is 'an absurd mathematical murder mystery' and a 'humorous thriller' written by Jonathan Pinnock. I know Jonathan through his funny poetry website Spilling Cocoa Over Martin Amis and his own poetry collection Love and Loss and Other Important Stuff (Silhouette Press). I am honoured to be part of his blog tour to promote The Truth About Archie and Pye (Farrago Books) and I am sorry for repeatedly talking about poetry and not mentioning the book at all in the interview below.
What makes you write poetry despite the overwhelming majority of people's crushing indifference towards it?
Well, the sad fact is that I'm on a bit of a sabbatical from poetry at the moment, as I am fully immersed in the world of the novel (OUT NOW: THE TRUTH ABOUT ARCHIE AND PYE. IT'S VERY GOOD. SEE PICTURE. ISN'T IT AN AWESOME COVER?). However, when I do come back to it, I think "Crushing Indifference" would be a great title for my next poetry collection.
WH Auden wrote that 'poetry makes nothing happen' – how do you know that this isn't true?
I'm not sure I do. It's certainly done very little for my bank balance. But then again, not much of my writing has, so it's not an observation that only applies to poetry.
Once when I sneezed, a piece of sweetcorn came out of my nose – can you tell me something interesting about you?
Oddly enough, a long, long time ago I once managed to do a similar trick myself. I found myself on an effective writing course at work with someone I fancied, and for some reason she started talking to me during the lunch break. I was so embarrassed and awkward that I managed to choke on the sandwich I was eating at the time and most of the filling went up my nose. Spent the rest of the afternoon blowing pieces of lettuce into a handkerchief. Oddly enough, she never spoke to me again. Not sure I've ever told anyone that story before, and I'm wondering why I'm telling it to you now, to be honest.
If poetry was a metaphor, what metaphor would it be?
Probably life. Most things are a metaphor for life in the end.
What is your favourite room?
The Albert Hall. Because I met my wife in the queue outside.
What is the worst poem you have ever written?
I have written many bad poems, but the very worst is probably the one that I submitted a very, very long time ago to "Poetry Now: Redundancy", called "Violation", which used a horrendously inappropriate sexual metaphor for being made redundant. I have no idea what I was thinking. It actually got worse, as the wires got crossed at the publisher and they were about to publish it in "Poetry Now: Relationships," until I pulled the plug on it. I still have nightmares about that one.
Which poems or poets are currently inspiring you?
As I said, I'm taking a bit of a sabbatical from poetry, but I think the last poetry book I read was Brian Bilston's "You Took the Last Bus Home", which I enjoyed a lot. Good thing, because I supported the crowdfunder for it.
What is the most annoying moment you have ever experienced at a poetry event?
It's not exactly an annoying moment, but there's one bad memory that stands out. I was shortlisted in a competition and invited to read some of my poems along with the winners at a special event. This was the first time I'd actually been asked to do something like this, and I failed to realise that I really should say something about each of the poems before I read them. Instead, I just gabbled through them and about halfway through, I realised I was losing the room. There was one member of the audience in particular, with a shock of white hair, who was staring at me with such malevolence that the look on his face haunts me to this day. Then again, it's possible that he was just bored, I suppose.
What advice would you give to someone thinking about writing poetry?
Make sure every single word is earning its keep. If it isn't, kick it out, or at least remove a letter or two to encourage the others.
What is the point?
It's usually the sharp bit at the end. But sometimes it can be quite fluffy. There's a lot to be said for a fluffy point.
@jonpinnock